FX Contact Lenses: Costume, Theatrical, Special Effects Contacts

Black Wolf ~ Red Vampire ~ Yellow Cat Eye ~ Blue Vampire ~ White Zombie
Special effects contacts, also known as FX contact Lenses or theatrical contact lenses are a fairly new 'fashion-trend' & 'novelty' that has become more popular and commercial within the past few years.
Special effects contacts are commonly worn within many different art genres, from Halloween costumes to theatrical stage acting, Gothic Vampires, movies and more.
People also like to wear them for fun.  Wearing special effect contact lenses can make for great role playing and sexual fun with your partner.   There's nothing like tapping into a different character, animal or scary monster. This kind of role-playing has always been known to increase emotions & desires.
Many people in the Gothic scene also wear them to conform with their lifestyle, preferably vampire contact lenses.
Now you can role-play to whatever your heart desires with a wide variety of Prescription or Non-Prescription FX Lenses.  And looking like your straight out of a movie — portraying your favorite vampire, zombie, werewolf, etc.
These can act as the perfect addition to complete that look for your  favorite character — thus exhibiting a certain level of professionalism that will certainly scare people, turn heads -or- drop jaws.
So, whether you want to wear special effects contacts for theatrical acting, stage performances, Movies, Halloween costumes, or just for fun — we've got what your looking for just below.  You can also check out our 'top-navigation-menu' section on top of this page — where we feature all of our special FX contacts.
And don't forget to bookmark our site, and return frequently as we will be updating it with new fun, scary, wild, cool & colorful contact lenses.
Also, check out the video below showcasing the full spectrum of some of the most famous theatrical contact lenses:
This page is dedicated to 4 of the most popular special effects contacts, which are vampire, cat eye, wolf & zombie contacts. Read more about these directly below…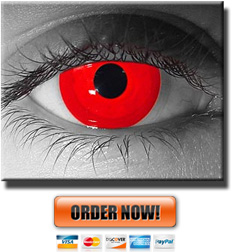 Red Vampire Contact Lenses
These Blood red Vampire contact lenses give off the energy of pure evil.  These scary contacts can go well with any type of horror costumes or dark Gothic outfits.
Some of the most popular choices include: vampire, devil, dragon, dinosaur, or other demonic type characters.
These were also worn by Marilyn Manson for the Mechanical Animals album, and tour starting in 1998, and generally any Marilyn Manson die-hard fan or groupie.
Also goes well with comic or cartoon character costumes like (Mr. Sinister/Nathaniel -or- Gambit/Remy Lebau) — X-Men, & (Adam Warlock) — Fantastic Four.
A popular type of theatrical contact lenses worn in many movies; and commonly worn in many plays by stage performers.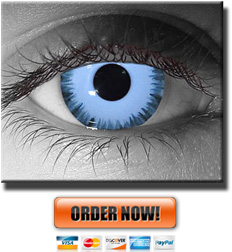 Lestat Contact Lenses
These cool blue, yet chilling Lestat vampire contacts can send shivers down the spine of any unfortunate human prey.
If you've seen 'Interview With the Vampire', you know how one cold hard stare from Lestat (played by Tom Cruise) can leave any victim hypnotized & subdued.
There are many more vampire movies that have incorporated this style for many vampire lords & night creatures.
Now, you too can can have the power of Lestat or any other sexy vampire with these chilling & charming light blue vampire eyes.
Some other cool costumes that go well with these contacts include the following: Ghosts, mythological creatures & Greek Gods.  Also blends well with any Goth gear.
Zombie Contact Lenses
These zombie contact lenses are the REAL DEAL!  Featuring white patternless iris, these eerie lifeless contacts make a suitable fit for any ghost or zombie costume.
There is a certain creepy & eerie feeling that comes over you when you stare in the mirror, and don't see any color in your eyes.  So BEWARE!  Upon slipping these in, you'll be starving for brains.
Can also wear these lifeless lenses as any 'creepy killer' or 'Gothic freak' that has finally gone over the edge.
Click on the image to learn more about these scary zombie contacts.
Black Wolf Contact Lenses
Pop these in… tilt your head up… stare at the moon… and howl!
These piercing black wolf contact lenses feature black outer limbal rings, and golden-brown inner-iris.
If you love extreme transformations and werewolf movies, then you will enjoy wearing these anytime you feel like tapping into your inner wolf.
These gorgeous wolf lenses makes a great fit for any werewolf costume, black Gothic gear, or the charming werewolf that you know you are.
Click to order these cool,dark & sexy wolf contact lenses, and bring out your inner animal!
Yellow Cat Eye Contact Lenses
Yellow & black personifies strength & vigor!  And these sexy cat eye contact lenses give off that exact energy.
Featuring the classic cat-like vertical pupil and yellow iris, these will be sure to turn heads.
These stunning lenses generally go with all types of cat costumes, in addition to many different animal costumes.
Click on image to learn more about these beautiful yellow cat eye contact lenses, and check out our other colors — from aqua to red.
You can also check out a full range of special effect contact lenses to find a pair that is to your liking.
IMPORTANT: All of the FX, costume, special effects & theatrical contact lenses mentioned in this post come in both non-prescription & prescription versions.  Make sure to select 0.0 Power For Non-Prescription Versions on order form.
We will be updating this website frequently and sharing more FX contacts in future posts.  We hope you enjoy your findings and please feel free to leave a comment or contact us with any questions or feedback.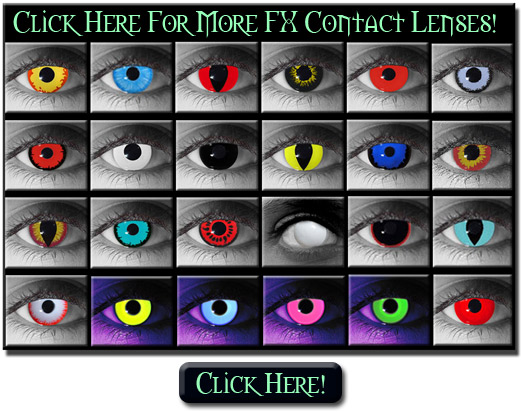 What is your favorite scene in any scary movie?  It's usually the scene when the human turns into some form of vicious animal, or evil fictional character – such as a vampire, werewolf or zombie.  Fact is, we love frightening situations.  And we love the intense and theatrical moments when human retinas drastically change form.  We enjoy professional special effects, FX makeup & scary costumes.  We like to see monsters that look real, whether it's a scene in a movie, a theatrical play, or on Halloween.  We all have that animalistic nature deeply embedded within all of us — that needs to be entertained in one form or another.