FX Contact Lenses: Costume, Theatrical, Special Effects Contacts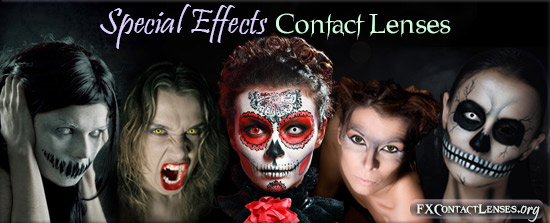 This page is dedicated to showcasing our best and most popular special effect contact lenses.  Featuring thef following: Black Wolf, Red Vampire, Banshee Cat-Eye, Angelic Yellow, Blue Vampire, Black Sclera, Rotting Eye, and White Zombie.
Special effects contacts, also known as FX contact Lenses; or by other popular names such as decorative, Halloween, Plano, colored, or theatrical contact lenses are a fairly new 'fashion-trend' & 'novelty' that has become more popular within the past 5 years.
Special effects contacts are commonly worn within many different art forms & genres — from Halloween costumes, Special effect make-up artists, film production, theatrical stage acts, Goths, Vampires, rock stars and more.
They're commonly worn with makeup & costumes at anime conventions and Cosplay events.  Cosplayers love wearing special effects contacts to accentuate a specific character or creature from their favorite movie, cartoon, anime, manga, game or comic-book.
Wearing special effect contact lenses can make for great role-playing fun with your friends or partner.  There's something truly gratifying about tapping into a different character, creature, animal, or scary monster to increase one's emotions & desires.
FX contacts are pretty popular in the Gothic scene, as they seem to conform more with their lifestyle, preferably all black contacts , zombie white, or vampire styled contact lenses.
More and more FX contact lenses are becoming popular outside of Halloween, and worn more throughout the year.  We offer a wide variety of FX Lenses to conform to any costume, make-up, or life-style.  And wouldn't you want to look like your straight out of a movie – portraying your favorite character, vampire, zombie, werewolf, etc.?
These special FX contacts can certainly act as the perfect addition to 'spice up' your favorite costume, makeup, or character – exhibiting a level of professionalism that will certainly scare people, turn heads, or drop jaws.  So why not dress-up, apply make-up, and synergize to whatever your heart desires?
Whether you're a horror lover, whimsical junkie, stage performer, makeup artist, goth freak, sports fanatic, actor, clubber, partyer, role-player, Halloween lover, or just want to have a little more fun in life — we've got just what your looking for.  Check out some of our most popular FX contact lenses below.
And don't forget to bookmark our site, and return frequently as we will be updating it with new fun, scary, wild, cool & colorful contact lenses.
Also, check out the video below showcasing the full spectrum of some of the most famous theatrical contact lenses:
This page is dedicated to eight of our most popular special effects contacts.  Read more about these lenses directly below…
Red Vampire Contact Lenses
These Blood red Vampire contact lenses are a popular theatrical styled lens due to its inhuman & unusual color not normally found in the eyes of mortal beings.
Red colored eyes give off an energy of pure hate & evil; which is why these contacts go best with the following horror makeup or costumes: Killler Clowns, Vampires, Devils & Demons. 
These red contacts also pair well with macabre victims, sugar skulls, sexy looks,  comic book characters, anime & cartoon characters, and other special FX makeup & costume ideas.
Also great for role-playing and bringing out your animalistic nature with your partner.
WARNING: You may have a sudden thirst for human blood upon slipping these in.  Learn about all four of our red colored vampire contacts.
Lestat Contact Lenses
These cool blue & chilling Le stat vampire contacts can send shivers down the spine of any unfortunate human prey.
If you've seen 'Interview With the Vampire', you know how one cold hard stare from Le stat (played by Tom Cruise) can leave any victim hypnotized & subdued.
There are many vampire movies that have incorporated this type of style for vampire lords & night creatures.
Embody that same Vampiric charm, sexiness, and power of Lestat with chilling & charming light blue vampire eyes.
This cool style is of the popular  Gothika brand.  Also available in the Custom SFX brand which are custom-designed & hand-painted design with intricate movie-quality details.
In addition to Vampires, other cool make-up & costume effect ideas that vibe with these cool, blue eyes are: Ghosts, mythological creatures, Greek Gods, crazy clowns, creepy dolls, or just that all-out wickedly, sexy look.
Zombie Contact Lenses
These zombie contact lenses are the REAL DEAL!  Without question, the most popularly worn contact lens for: Halloween, movies, stage, cosplay… whatever!
Featuring white pattern-less iris, these eerie lifeless eyes make for awesome contacts suitable for so many different makeup effects and costumes.
These synergize best with the zombie look, but also make for a great add-on for any skull makeup, ghosts, clowns, creepy dolls, aliens, macabre victims, monsters, creepy killers, witches, demons, and goth/metal heads.
Just check out our pinterest boards to see so many special effects makeup designs with white contact lenses we gathered from some awesome makeup artists around the world.
There is a certain creepy & eerie feeling that comes over you when you stare in the mirror after slipping these in….  so beware!  Upon slipping these in, you may be starving for brains.
Check out our widest variety of Zombie lenses in the industry.
Black Wolf Contact Lenses
Pop these in… tilt your head up… stare at the moon… and howl!
These piercing black wolf contact lenses feature black outer limbal rings, and golden-brown inner-iris.
If you love extreme transformations and werewolf movies, then you will enjoy wearing these anytime you feel like tapping into your inner wolf, and bringing out that inner animal that you know you are.
These gorgeous wolf lenses makes for a great fit with any werewolf costume, werewolf makeup, black Gothic gear, or the charming werewolf that resides within all of us.
Click image to learn more about these cool,dark & sexy wolf contact lenses, or interested in a different color?..  Also learn about our red and gold werewolf contacts.
Dark Angelic Contact Lenses
Dare to stare into the eyes of pure terror!
This is the ultimate gaze of evil!  Piercing yellow eyes that will send shivers down the spines of the toughest of mortals.
Featuring yellow opaque style lenses with inwardly sharp, piercing limbal-ring brush strokes for that transformative look and appeal that will leave mere mortals trembling in fear.
In a Psychological sense, yellow really stands out when paired with black, and personifies strength & vigor.  This powerful color-combo resonates in our subconscious as a warning to stay far away.
Many evil characters & creatures in horror films are often seen with yellow eyes, such as: vampires, monsters, demons, and possessed victims.  These will serve as the perfect look to portray Valak, that horrifying nun demon from the The Conjuring 2.
These spine-chilling lenses make for the ultimate effect idea to accentuate your makeup & costumes for: cosplay, halloween, theatre, movies, parties, or just to scare the crap out of children.
Banshee Contact Lenses
Project your inner fire to the outside world; from sexy beasts to wild cats and sinister reptilians to ruthless devils, these inhuman, maniacal eyes are sure to entangle all innocent life-forms.
Human prey will either submit their soul or flee in fear when captured by a powerful glance from these fiery-hot Banshee FX contact lenses.
Featuring explosive, sun-bursting style yellow flames emanating from a cat-like pupil, encircled within a red-hot, devil-red limbal ring.
Banshee lenses give off a diabolical vibe that's perfect for any malevolent creatures & characters;  serving as a great makeup effect for: demons, devils, reptilians, dragons, & mythical beasts.
Also great for spicing up the sexiness of your cat makeup for the clubs, theatre, rock concerts or just role-playing fun with your partner.
Rotting Eye Contact Lenses
From spooky creatures with extreme cataracts to zombies with decaying eyes, and malevolent apparitions to soul-stealing demons, these realistic rotting-eye special effects contacts are sure to make your eyes look dead & otherworldly.
Give your horrific characters & creatures a 'creepy presence' and an 'eerie stare' that's sure to curdle the blood of mere mortals.
Featuring an off-white, semi-opaque style lens, allowing 20% of your natural eye color & definition to seep through; and providing for the most realistic and professional style lens in the industry.
Rotting eye contact lenses synergize well with a variety of makeup & costume effects. For demons, they perfectly reflect that the human is now in a possessed state.  For zombie eyes, it's an indication that they're decaying from within.  For ghosts, it suggests that this chaotic entity is devoid of any benevolent acts.
Let these soulless eyes scream your creature's true nature, making a great effect for: film, theatre, cosplay, anime, body paints, or FX makeup artists.
Black Sclera Contact Lenses
Create some of the most menacing, inhuman-like manifestations with the eyes of ultimate darkness.  From immortal beings to other-worldly creatures and evil entities to ravaging beasts, these blackout eyes are sure to swallow the light of all that is.. was.. and always will be!
The forces of darkness have grabbed hold, for you are now totally absent of light.  You are devoid of any kind of soul-matrix or human consciousness.  Your evil, wicked ways holds no bounds, projecting total gloom & doom upon the outside world.
Your eyes are like a black hole… sucking in life and spitting it back out.  These are the eyes of the most malicious & horrific creatures: Demons, Vampires, Devils, Aliens, & Werewolves.  Also vibe well with Goths, and skull makeup as depicted in the photo.
Black Sclera contact lenses are available in Gothika & CustomSFX brands — and in corrective & non-corrective versions.  These 22.0 Diameter Scleras cover the majority of the eye and serve as a great effect for where you don't plan on wearing them for more than a few hours at a time, because your eyes need to breathe.  Suitable for: SFX makeup artists, film production, stage acts, photo-shoots, body-paints, etc.
These unearthly style lenses makes for a 'cool & trendy' effect to wear one black sclera lens in one eye and a contrasting style & color lens in the other; likened to our skull makeup idea in this image.
IMPORTANT: We have the VerifyMyLenses.com *stamp of approval*, so you can feel safe you're getting FDA Approved lenses. VerifyMyLenses is a complete system that handles the entire prescription/approval verification process for our USA customers. An email will arrive in 5 minutes of placing your order for you to follow up with. International Customers are NOT required to follow up with this email. You can learn more on our product pages.
We will be updating this website frequently and sharing a bunch more FX contacts which we already have featured in our store in future posts.  We hope you enjoy your findings and please feel free to leave a comment or contact us with any questions or feedback by clicking on our support tab on bottom-right portion of this screen.  We're here to serve :)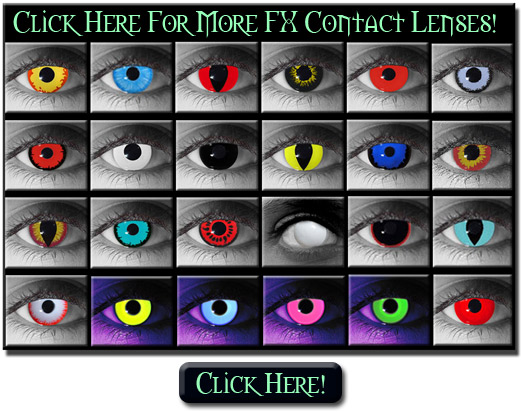 Professional SFX Makeup & FX Contact Lenses Ideas
Are you inspired to take your makeup effect or costume to the next level like you're a professional special effects makeup artist?  Or are you a makeup artist that would like to gather some really cool ideas?  Well, if you got a Pinterest account, then you can get free access to 100's of our different special effects makeup & costume ideas to pair with many different style FX contacts.
Confused about what type of contact lenses goes with what makeup, or costume?  Well, we made it easy for you on our Pinterest account.  We worked hard on gathering these up for you from many professional special effects makeup artists & stylists.  And we keep 'uploading' & 'pinning' new ones every day.
Click here to get some great ideas and inspiration for special effects makeup & FX contacts — from Zombie, Vampire, Monster, Macabre, Witch, Ghost, Skull, Clown, Alien, Cat, Creepy, Doll, Reptilian, Sexy, Goth, rocker, and many other great Special FX makeup, costumes, and contact lenses ideas.  Pinterest will only give you limited access to these images.  But you can sign up for an account with them — It's easy, and it's free.
Summary
What is your favorite scene in any sci-fi or scary movie?  It's usually the scene when the human turns into some form of vicious animal, or evil fictional character — such as a vampire, werewolf or zombie.  Fact is; at a deep sub-conscious level, we love frightening situations, which is why we watch scary movies.  And we love the intense and theatrical moments when human retinas drastically change form.  We enjoy professional special effects, FX makeup & scary costumes.  We like to see monsters, and other characters that look real and are brought to life; whether it's a scene in a movie, a theatrical play, on faceoff or on Halloween.  We all have that animalistic nature deeply embedded within all of us — that needs to be entertained in one form or another.