Glow In The Dark Contacts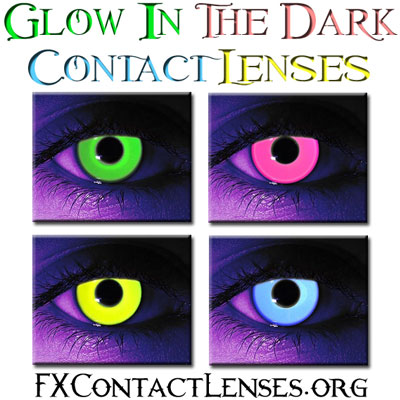 Are you ready to dance the night away, party to the break of dawn, rave like a pro, rock clubs in dynamite fashion, or glow like a beautiful star?  Or are you looking to scare the living hell out of people by creating some spooky haunt effects for your horror creatures at your next Haunt attraction?  Or are you a body-painter looking to create some really neat effects for your photo-shoots?
From glowing green-eyed evil witches -to- glowing pink-eyed raving dance-freaks, now you can create the ultimate effect to accentuate your makeup, costumes or party getup with glow in the dark contact lenses.  These unique style contacts are designed to shine bright in the presence of a black-light or UV lighting.
Featuring four vibrant colors(blue, geen, pink & yellow) that'll sure add some extra scare to your haunt creatures, body-paints, photo-shoots, or have you being the 'center of attention' dancing, raving & partying.  These black-light contacts also make a great addition to glow make-up, glow spray-paint, or other glow accessories that shine bright under the black-lights.
Blue Glow Contact Lenses
Be the 'coolest cat' on the dance floor with glow blue rave contacts, or create some chilling makeup effects for body-paints or haunted house creatures such as: creepy skeletons, brain-hungry zombies, or other spooky monsters.
Glow Blue FX contacts are the most versatile in this sense that it can create some cooling & calming psychological effects, yet it can come off as really spooky when worn with scary haunt creatures.
Featuring a magnificent UV-Neon blue color under the black-lights, and as a light-crystal-blue under regular lighting.
Almost everybody's favorite eye color is blue, so why not illuminate them at the night-clubs or for some Halloween Haunts.
Available in corrective and non-corrective versions.  Click on image to learn more about these blue glow special effects contacts.
Yellow Glow Contact Lenses
Let your eyes shine like the sun with these neon yellow glow in the dark contacts.  Achieve a surreal appearance with lenses, creating a scary, glowing-yellow-eye effect for black-light haunts.
Or go grab your glow sticks and slap on some glow makeup and get ready to dance your little heart away and have some wild fun at any black-light party, rave, or event.
Yellow is a warm color, denoting happiness & joy.  If you are happy-go-lucky, these glowing eyes will suit your persona perfectly.
Yellow glowing eyes can also come off as quite spooky when paired with horror makeup and costume effects, which is well-suited for employees or Actors of Haunt attractions or haunted houses featured with a Black-light.
Available in corrective and non-corrective versions.  Click on image to learn more about these yellow glowing eye contacts.
Pink Glow Contact Lenses
Spread your love under some black lights with these pretty pink glow in the dark contacts.
Pink is the color of universal love.  A caring and quiet color, pink opens up emotions for gentleness, self-confidence & irresistible love.
If your a lover of innocence & beauty, then you will love these neon UV pink contact lenses.  These will not only spread the beauty, but will also make you feel beautiful!
But don't sleep on these innocent looking lenses. They can make for some wicked looking haunt effects.  Due to gentle nature of this color, it can create a dichotomic-like effect which can be likened to our wicked alien creature in our image, modeled by our friend Adnarimification.
Available in corrective and non-corrective versions.  Click on image to learn more about these pretty pink glowing lenses.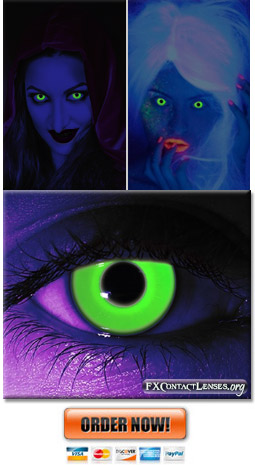 Green Glow Contact Lenses
From green ghouls -to- wicked witches and raved out dancers -to- sickly partyholics, green glow special effects contact lenses are sure to make you play the part.
These green glowing lenses are neat for creating creepy & evil looking characters & creatures.  Perfect for employees or Actors of haunt attractions and haunted houses with a Black-light to accentuate their makeup & costume effects.
Let your eyes "Go Green" for the night-clubs, raves, parties, New Year's, or just having a little black-light fun with friends.
Available in corrective and non-corrective versions.  Click on image to learn more about glow green contact lenses.
The Popularity Of Glow In The Dark Contacts
Glow in the dark contacts have become more popular and trendy recently.  You can find them worn during Halloween, haunt attractions, fairy festivals, clubs & raves.
Glow in the dark contact lenses will add that extra ZING to any costume, Goth gear -or- trendy getup.
You can be sure to get that "WOW" effect from people at any scene that commonly utilizes UV lighting -or- black light effects which will then really showcase your glow in the dark contacts.
Many people experience a very eerie and mind altering magic under the UV lighting that many clubs and raves employ.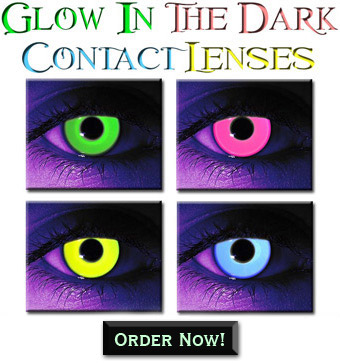 How Do Glow In The Dark Contact Lenses Work?
The glowing effect that emanates out from these contacts work by means of a luminescent substance which is put into the contact lenses.
When the glow contacts are exposed to UltraViolet, UV light or light emitted from a black light, they then glow in a neon type luminescence.
In addition to glow in the dark contact lenses, there are many other things that glow in the dark — ranging from things that we played with as a kid to other fun glow novelties you can buy at a store.
As kids growing up, we used to love playing with things that glowed in the night — like lightning bugs, glow star stickers, glow necklaces & glow bracelets.  As we got older, we moved onto glow sticks, glow in the dark condoms, and glowing rave contacts.
Summary
Psychologically speaking, whether we are young or old, maybe what we are really just trying to do is shine a little bit of fun light into the dark aspects of our soul — thus filling the void of what we are really afraid of at a deep-down level ~ "The Dark".
IMAGE ATTRIBUTION:
Pink Glow Eye Alien in Pink Glow Contact Lenses post image above provided by: Adnarimification / Modification: Added in with photoshop: (retouched pink eyes, resized, cropped, and incorporated into that full image).