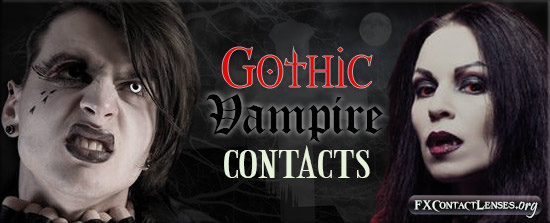 These are "Top 4" most fitting special effects contact lenses worn among vampires, goths & rock stars. These wickedly, cool FX contacts also vibe well with a variety of genres & costumes, such as: zombies, clowns, ghosts & demons.  So whether you want to give yourself that movie-quality makeup effect.. look 'sinfully spicy" for a night into town.. or just want to look your "best" for Halloween, then look no further.
These lenses also *mix & match* well with each other, making for some really cool effects, likened to Marilyn Manson who has mixed & matched many of these lens styles together throughout most of his music career.
Black Goth Contact Lenses
Slap on some pale skin makeup and slip in a pair of Black Goth Contact Lenses for the ultimate sexy, gothic & vampiric makeup effect.
These alluring eyes will project a mysterious stare as 'mere mortals' are instantly attracted to your presence, and hypnotically falling into your magnetic void like light being sucked into a black hole.
Black goth eyes are captivating, and accentuate well with Goth gear, Goth makeup, or just that "All-Black" look!  These also make for a great addition to Vampire costumes.
Marilyn Manson made famous the dichotomy eye effect with on eye black, and the other eye wore a white lens with a thin-black limbal ring — likened to the Goth White Manson contacts directly below.
Available in both Corrective(-6.00 to -0.25) Powers – & – Non-Corrective/Plano(0.00) Power.
Goth White Manson Contacts
A vampire-goth eye effect with a creepy, zombie-like vibe. These eerie Gothic Vampire contacts style made famous by Marilyn Manson, featuring all-white iris with black limbal ring.
Marilyn Manson wore this style throughout most of his music career.  Pair one of these with one gothic black contact lens like the one directly above to get the same exact Marilyn Manson dichotomy-like eye effect.
Freak people out on Halloween or at the goth/vampire clubs.  These style contacts are also ideal for theatrical production, movie roles, costume parties, or just for fun.
Pair with your favorite vampire, demon, zombie, killer clown, or ghost costume — or just wear out in society like you just don't give a damn!
Available in both Corrective(-6.00 to -0.25) Powers – & – Non-Corrective/Plano(0.00) Power.
Blue Manson Gothic Contacts
Rock out with Blue Manson Gothic special effects contacts.  Presenting themselves as an opaque style lens, featuring a chilling, sky-blue iris with a black limbal ring.
Blue Manson contacts resonate well vampires, rockers, goths, or anything creepy, eerie, or chilling.  This fascinating lens design has been made popular by Marilyn Manson from some of his videos, photos & stage acts.
These unique style lenses also gives off a Vampiric-like feel similar to the underworld contact lenses of the death dealer vampire characters.
So, for all vampire, goths, rockers, metal-heads, or cosplayers, these can be a lot of fun to wear and serve a variety of makeup and costume effects.  Great for goth clubs, theatre, film making, or Halloween.
Available in both Corrective(-6.00 to -0.25) Powers – & – Non-Corrective/Plano(0.00) Power.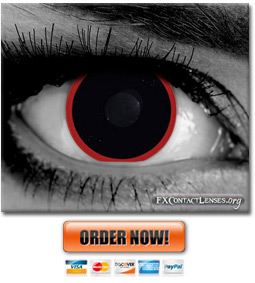 Vampire Goth Contact Lenses
Immediately transform yourself into a blood-thirsty vampire goth creature in the need to feed on a fresh mortal kill.
These unique style lenses feature an all-black lens encircled within a blood-red limbal ring for a truly wicked & haunting effect.
This evil style lens has been made popular by the demon character Pinhead form the popular Hellraiser film series.
Slip in these blood-lusting lenses for the ultimate goth appeal for the clubs, or to add a little more sin to your vampire costumes for Halloween or cosplay.
Available in Non-Corrective/Plano(0.00) Powers only.

Filed under: Vampire Contact Lenses
Like this post? Subscribe to my RSS feed and get loads more!