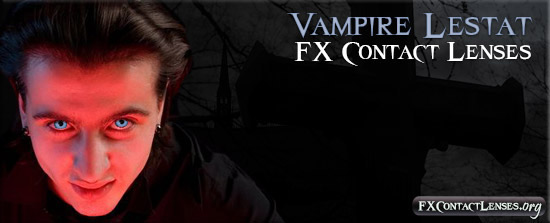 Give yourself the ultimate aristocrat Vampire vibe with our Custom SFX -or- Gothika brand Lestat Contact Lenses.  These chilling blue eyes resonate with the looks of classic vampires such as: Bela Lugosi's Count Dracula -or- Lestat from Interview with a vampire.  Click here to check out our Louis Vampire contact lenses.
Dare to wear these anyplace or anywhere your cold-blooded heart desires.  Well serving for: Cosplay, Halloween, theater, film, costume parties, role-playing, goth/vampire clubs, or just to make an impact.
Lestat Custom SFX Contacts
"Evil is a point of view. God kills indiscriminately and so shall we. For no creatures under God are as we are, none so like him as ourselves" ~ Lestat (Interview with a vampire)
Feel Lestat's blood coarse through your veins with Lestat Custom SFX Contact Lenses.  These professional, movie-quality blue vampire contacts are sure to spice-up the look of any blood-sucking night creatures.
These sky-blue vampire contacts present themselves as a charming, yet chilling effect.  Accentuated by a thick, inhuman-like limbal-ring with darker, contrasting colors, and inward flowing sharp brush strokes, giving your eyes a piercing, intimidating stare that will to mesmerize any mortal souls.
Custom SFX brand lenses are hand-painted & custom-designed per order.  Please allow 3-5 weeks for delivery.  Available in corrective & non-corrective versions.  Click on image for more information.
Lestat Gothika FX Contacts
"I like to do it. I enjoy it.  Take your aesthete's taste to purer things, kill them swiftly, if you will, but do it.  For do not doubt: you are a killer, Louis." ~ Lestat
Transform from your meager mortal ways into a vicious vampire aristocrat with Lestat Gothika FX Contact Lenses.
These blue vampiric eyes reflects Lestat's immortal life,  as well as his constant struggle to find other vampires in the hopes of rising and joining together to solve the mystery of their, and his existence.
These chilling blue FX lenses are sure to send shivers down the spines of mere mortals, featuring an opaque style lens with other-worldly black limbal ring.
Lestat special effects contacts serve as the perfect lenses to portray this lovable antagonist character for: cosplay, Halloween, goth clubs, or vampire conventions.
Gothika FX lenses are a popular and well trusted brand, FDA-cleared, and worn by tens of thousands every year.   Available in corrective & non-corrective versions.  Click on image for more information.
Filed under: Cosplay Contact Lenses • Vampire Contact Lenses
Like this post? Subscribe to my RSS feed and get loads more!