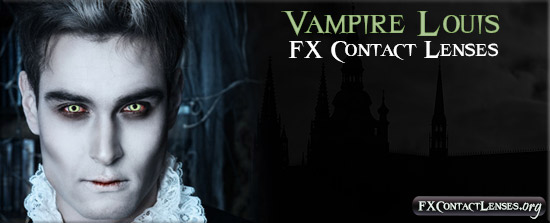 One of the most famous Vampire movies to hit the big screen is Anne Rice's 1976 famous story Interview with the Vampire.  The film was released in 1994, and starred two of the leading film actors for it's time — Tom Cruise & Brad Pitt.  Movie-goers fell in love with the roles played by Tom(Lestat) & Brad(Louis).
One of the most memorable makeup effects worn by these two good-looking charmers were Vampire contact lenses.  Tom's charming blue eyed Lestat contact lenses and Brad's light green Louis contacts definitely added a certain element of suspense, horror & mysticism to the characters.
This page will focus specifically on the Louis contacts, which these movie-inspired lenses bear a close resemblance to Louis vampire eyes.  However you can follow this link to learn more about the Lestat contact lenses.
Custom SFX Louis Contact Lenses
Dare to stare into these eyes, and not fall in love!
If your looking to make a real impact on a crowd or audience, then look no further, cause the Louis contacts will definitely get the looks you'll appreciate.
Featuring a chilling light green iris with detailed & finely intricate limbal ring strands, the Louis contact lenses have been popularized in many movies, in addition to Interview with a Vampire.
Slip in a pair of Louis custom lenses and pay homage to one of the coolest vampire characters for the next cosplay event.  Why not go in style and give the crowds something they can really sink their teeth into?
Also make for a great vampire makeup or costume effect to spice up your look for Halloween, goth clubs, stage performances, film production, costume parties or just to make an impact.
These charming, yet chilling Green vampire contact lenses are available in corrective & non-corrective versions.
Gothika FX Louis Contact Lenses
These green vampire eyes serve as an excellent alternative to the custom Lestat lenses.
These green vampire styled Louis contact lenses also serve as an excellent addition to any Goth Gear -or- Vampire costumes.
Wear these lenses to your favorite Rock club, Goth bar, or any where you cold-blooded heart demands attention!
Louis Contacts are available in both non-corrective & corrective versions.  Click on image to learn more.
Filed under: Cosplay Contact Lenses • Vampire Contact Lenses
Like this post? Subscribe to my RSS feed and get loads more!