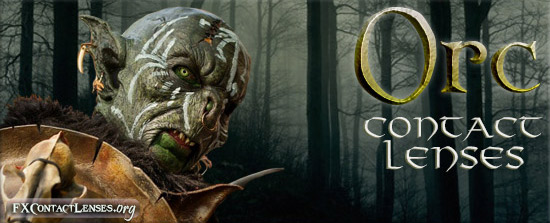 From the big screen -to- the stage and from cosplay events -to- Halloween costumes — allow your imagination to break free with Orc special effects Contact  Lenses.  Bring these fictional Orc creatures & characters to life, while creating some movie-quality makeup effects that are sure to get you the attention you deserve.
Below is a variety of Orc style lenses, taking inspiration from the Orc creatures of: fantasy fiction, games, and mainly the epic film series The Lord of the Rings.  Whether you're portraying Isengard slave orcs, Moria goblin Orcs, ruthless Orc Berserkers, or high-ranking Uruk-Hai, these professional-quality contact lenses are sure to accentuate your makeup & costume effects, making your Orc make-ups look that much more cruel, wicked & monstrous.
Lurtz Custom SFX Contacts
"Find the halflings! Argh! Find the halflings!" ~ Lurtz

Bred from the filthy Isengard mud-pits, this savage Uruk-hai warrior choked the first Orc he sees to death within seconds of his birth, showcasing his malicious & violent nature.
Leader of other Uruk-hai soldiers, Lurtz is the strongest, smartest, and exhibits the best fighting ability & weapon skills.
So slap on Warpaint, grab your sword, and slip in Lurtz Custom SFX contacts, showcasing your makeup & costume skills. Pay homage to this ferocious creature at the next Lord of the Rings event, cosplay convention, or for Halloween.
These professional-quality, movie-inspired contacts present themselves as an intricate hand-painted design, featuring 3 contrasting shades of brown for the ultimate effect that's sure to bring this monstrous character to life.
Gundabad Orc Custom SFX
From Orc sword warriors to Orc warg riders, give your orc creatures & characters a movie-quality effect with Gundabad Orc Contact Lenses.
The professional & intricate design of these custom contacts are sure to 'amp-up' the beastly nature of your Orc creatures, and vibe with all-things hateful & aggressive.
These custom lenses present themselves as a chilling yellow tint design with 16.0 large diameter lens — giving your eyes an otherworldly appeal, and accentuated with a dark, dry style crust formation encircled around the outside of the iris.
So 'spice-up' your Orc makeup effect and get ready to wage war against the good-natured hobbits, elves, & dwarves.
Create some great looks for: theatre, halloween, film production, cosplay conventions, or pay homage to these malicious, evil Orc creatures at lord of the rings events.
Woodland Orc Custom SFX
"You must dig swift and deep, if you wish to hide from Orcs." ~ Legolas
Let your brutish hate emanate from your wicked, orcish soul before going into battle against Gandalf, Elves, Men, & Dwarves.
These evil, piercing green eyes perfectly reflect the adapting nature of the Woodland orc, allowing them to better blend in with surrounding forest & trees, serving as camouflage, and giving them an advantage of surprise sneak attacks on Elves whom inhabit the Woodland Realm.
These movie-inspired, multi-colored lenses feature a striking pale-green iris enclosed within a dark, asymmetrical outer-ring with a sharp, fang-like design.
These sinister style contacts are sure to add a movie-quality appeal to your orc creatures.  Create some great looking effects for: cosplay, Halloween, film, theatre, or LOTR events.
Blackgate Orc Custom SFX
Slip in these spine-chilling, fiendish eyes and get ready for a battle, fortifying yourself alongside thousands of other Orc troops at The Black Gate of Mordor.
Black Gate Orcs(aka "Morannon Orcs"), were a breed of Orc similar in size to Uruk-Hai.  Tall, strong, brute, & powerful, these stocky Orcs were Sauron's primary infantry in the War of the Ring.
These extreme, fiery eyes are as eerie & monstrous as they come, presenting themselves as a vibrant, orange iris lens design framed in a jet-black limbal ring to add a piercing effect, and accentuated with glowing, blood-red detailing giving your eyes a sinister aura that's sure to bring a movie-quality effect to your Orc makeup.
Grab your weapons & battle gear for your next cosplay event, attending in true Orc troop style, or just really impress the hell out of your LOTR geek friends this Halloween.
Ugluk Custom SFX Contacts
"I don't take orders from Orc-maggots. Saruman will have his prize. We will deliver them" ~ Ugluk
Project a sinister stare with these unearthly, fantasy styled contacts.  Featuring icy-white, smoky irises with gray detailing to add an eerie depth to your appearance.
A dark, contrasting limbal-ring accentuates the intensity & otherworldly appeal to your Orc creature makeup effects.
These chilling lenses bear a strikingly close resemblance to the eyes of Ugluk, the Uruk-hai captain from the 2002 epic high fantasy film Lord of the Rings – The Two Towers.
Portray yourself as this powerful Orc creature for Halloween, cosplay events, or LOTR movie releases.
These spine-chilling eyes are well serving for a variety of horrific makeup effects, such as: zombies, aliens, mythical monsters, & demon possessed victims.
Cave Orc Custom SFX Contacts
"You must dig swift and deep, if you wish to hide from Orcs." ~ Legolas
These are the tortured eyes of Cave Orcs, cruelly mistreated and enslaved by Melkor, a powerful Dark Lord and primordial source of evil. These Orc creatures first started out as Elves, but after unfathomable torture, Melkor transformed these sorry souls into wicked, bad-hearted Orcs possessed with pure hate for everybody and everything, particularly the orderly and prosperous.
Their personality traits mirrored their physical ugliness, and these anguished eyes pair well with the common Orc features: flat-nosed, sallow-skinned, slant eyes, dark skin, sharp fangs, & black gums. Use these fiendish facial ideas to create professional Orc makeup effects paired with Custom SFX Cave Orc contacts.
These horrifying lenses feature an iris design with multiple shades of green & yellow(from pale-yellow to ghoulish-green), giving your eyes depth and a multi-dimensional quality to add to it's appeal. This fiendish pattern is outlined with a black limbal-ring to add contrast, more intensity, and a piercing effect that's sure to creep the hell out of people.
Azog Custom SFX Contacts
"Moria had been taken by legions of Orcs led by the most vile of their race… Azog the Defiler. The giant Gundabad orc had sworn to wipe out the line of Durin. He began… by beheading the king." ~ Balin, in The Hobbit: An Unexcpected Journey
Don't let Azog's baby blues fool you.  This herculean, pale orc is a vicious psychopath, and merciless chieftain of the Orcs of Moria and leader of the warg riders.
Portray this bloodthirsty, fascist orc on Halloween, or hunt down Dwarves at the next cosplay event, or pay homage to this insidious creature for LOTR movie releases.  Slip in these piercing, pale blue eyes to accentuate your Azog makeup effects:(bone-white skin, battle-scars, & forearm metal claw.)
Tap into Azog's character and deliver a chilling, yet captivating stare that's sure to get you attention. These custom SFX contacts are hand-painted for a professional, movie-quality effect.  Featuring a light-blue, veiny-like design stemming from around a darker sky-blue pupil, and darker limbal rings around the iris to give your Azog Orc makeup something worth looking at.
Gothmog Custom SFX Contacts
"The Age of Men is over. The Time of the Orc has come." ~ Gothmog to his army in The Lord of the Rings: The Return of the King.
Gothmog was a Morannon orc-general and lieutenant under the lordship of the Witch-King. Known for his deformed face, peachy coloured skin, crippled left arm, and blood-thirsty eyes which scream vengeance.
Slip in a pair of Gothmog Custom SFX contact lenses and command your Orc soldiers into the lands still held by Men. These fiery styled contacts bear a close resemblance to the depiction of this Orc creature from The Return of the King.
These captivating lenses present themselves as a bold color combination; featuring a bright yellow-iris encircled within a red-orange, flame-like limbal ring.
Attend cosplay events in true Orc fashion, or dress to the 9's for: Halloween, costume parties, theatrical events, LOTR movie releases, or anyplace you want to show off your makeup skills.
Orc Berserker Custom SFX
This is the hellish stare from some of the most ruthless & fearsome Orc Berserkers, also known as Uruk Berserkers, or Bolg's Bodyguards.
Orc Berserkers are gigantic in stature compared to other orcs, standing over 7 feet, they can crush Elves & Dwarves with one vicious blow.
During the Battle of Five Armies, Bolg lead hundreds of these blood-thirsty orcs as the vanguard of his massive army.
These fiery-eye lenses present themselves as a unique style and scary color combination, which give off an inhuman-like quality, and adding for a really monstrous effect.
Featuring a pale-blue iris encircled within a blood-lusting red limbal ring — giving these professional style lenses a piercing-eye effect to add to its "scare factor".
Slip in a pair of Orc Berserker custom contacts for Halloween, cosplay, LOTR events, or with any makeup effect that screams "Pure Hate & Fury".
Snaga Gothika FX Contacts
Yeah!! Why can't we have some meat? What about them? They're freshshsh! ~ Snaga from The Lord of the Rings, The Two Towers
This lesser breed of orc were used as slaves, warg riders, and messengers.  Many of them  had Uruk-Hai masters who would whip and torture them.
These horrific orc creatures were small in stature, and used by Saruman as laborers in Isengard, and they also made up the majority of Sauron's army.
These Snaga FX contact lenses resonate well with any malevolent beings with 'dark & "evil' intentions — bearing a striking resemblance to the eyes of the orc of the same name from the The Lord of the Rings – The Two Towers.
There is a popular scene where Snaga gets his head cut off by Ugluk for trying to eat Merry and Pippin.
Snaga Gothika FX Contact Lenses feature bold, vibrant orange irises with contrasting jet-black outer limbal-ring — thus adding that traditional piercing-eye stare effect.
Pair these movie-quality contact Lenses with your favorite orc creature makeup effect for: cosplay, Halloween, or just some geeky LOTR role-playing fun with friends.
This style lens is available in non-corrective versions only.
IMAGE ATTRIBUTION:
Orc Creature costume/makeup effect in top post image provided by professional makeup artist & cosplayer Red Dragon Lord / Modification: Added in with Photoshop: (our cave orc lenses, different background, & surrounding text/link logo).
Filed under: Cosplay Contact Lenses • Scary Contact Lenses
Like this post? Subscribe to my RSS feed and get loads more!