Every Vampire hungers after a certain look to portray themselves as.  There is nothing more sexy, intriguing and scary as red vampire eyes.
Below you will find four different style & color red Vampire contacts, suitable to the needs of every  type of Vampire — from the real life blood-sucking Vampire to the Gothic freak following the latest fashion trend.
Read below to learn more about the most popular red Vampire contacts in the special effects industry,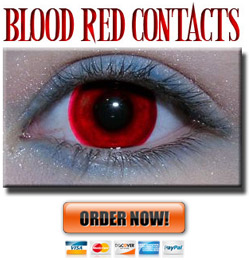 Blood Red Contacts
Blood red contacts are the most professional & realistic in the Vampire contacts market.
Wearing these personifies anguish, & hate.  And evokes fear in human prey, or any mortal whom dares to stare into these hateful eyes.
These contacts are commonly worn in many Vampire Horror films.  The largest and most powerful coven of vampires — The Volturi are seen with these eyes in the Twilight films.
Wear these blood red contact lenses for theatrical performances, movies, costume parties, or any place you just wanna enforce your royal status.
Available for both non-corrective(0.00) & corrective( -6.00 to -0.25) versions.
Learn more about what best other costumes and makeup effects resonate best with these Blood Red contacts.
Also click her to see our full range of red vampire FX lenses.
Demonic Red Contacts
The evilest of all red lenses, these vampire eye contacts have the power to hypnotize & subdue any human prey with just one stare.
A very demonic presence resonate with these Vampire lenses — featuring a red iris and black limbal ring.
Red & black in nature, and when used in combination personify strength, power & vigor.
Wear these scary Vampire eye contacts for the stage, acting,  Halloween, or to scare the bejesus out of your loved ones.
Available in non prescription(0.00) versions only.
Follow link to order these demonic Vampire contacts today.
Fun Vamp Contacts
Some Vampires like to keep it simple!  A simplistic, yet true, Vampire Eye Contacts that will definitely draw attention.
Featuring full-color red irises, these are the same vampire lenses worn by Marilyn Manson in one of his music videos.
These red-eye vamp lenses can really accentuate a wide variety of vampire makeup & costume effects.  A great effect to accentuate your look for Halloween, cosplay, Goth clubs, body paints, film production, or for some role-playing fun.
Corrective powers range from -0.25 to -6.00.  Select 0.00 for non-corrective powers.  Follow link to learn more about these fun Red Vampire Eye Contacts.
Vampire Cat Contacts
If you like Cat Eye Contacts and Vampire eyes, then why not combine the two looks as a hybrid form with these vampire red contact lenses.
This look personifies sexy, powerful, and intimidating.
These red vampire contacts go well with many type of cat & Vampire costumes.
Also bodes well in the bedroom with your loved one serving as a nice little role-playing accessory.
Come in prescription ranging from -0.25 to -6.00.  Also available in non prescription.
Visit link to learn more about the vampire red contact lenses.
Filed under: Vampire Contact Lenses
Like this post? Subscribe to my RSS feed and get loads more!