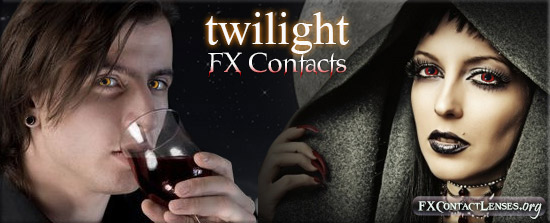 Dress up and portray yourself as your favorite twilight vampire and get ready to battle werewolves, shape-shifters, and enemy vampires.
From The Cullen's to The Newborn's and The Volturi to The Nomadic, these special effects contacts are sure to make you look the part.  Pay homage to these lovable vampire characters for twilight Conventions, twilight movie releases, or cosplay events.
Below is a variety of color & style twilight contact lenses, which were inspired by the film series of the same name; from violent, blood-thirsty red-eyed newborns -to- civilized, animal-feeding golden-eyed Cullens, these vampire eyes will 'spice up' your makeup & costume effects, giving your characters a realistic, movie-quality appeal.
Golden Twilight Gothika Contacts
"When we taste.. human blood, a sort of frenzy begins.  It's almost impossible to stop" ~ Edward Cullen to Bella Swan
These unique style eyes reflect the nature of the The Cullen & Denali covens, which are known to be vegetarian vampires, feeding only on animal blood instead of human.
Experience true beauty & vampire romance like a Cullen with Gothika Golden Twilight Contact Lenses. These beautiful, gold colored eyes emit a mysterious glow that will surly make an impact.
Slip these in for Halloween or just a regular night out into town.  Also portray and pay homage to your favorite twilight vampire character for: twilight conventions, movie releases, or cosplay events.
Available in corrective and non-corrective versions.  Click on image for more information.
New Moon Volturi Gothika Lenses
"The Volturi aren't supposed to be the villains, the way they seem to you. They are the foundation of our peace and civilization." ~ Edward Cullen
The Volturi are the largest and most powerful coven of vampires, acting as the unofficial royalty in the vampire world, and enforcing laws over all vampire covens & races to ensure that their existence remain a secret from all humans.
These aristocratic vampires feed on the blood of humans, with their eyes reflecting a deep red color with darker, contrasting outer limbal ring.
Mimic the blood-red eyes of The Volturi with New Moon Gothika Contact Lenses, and pay homage to these royal vampire characters at: cosplay events, twilight film releases, or twilight conventions.  Or slip these in for Halloween to accentuate your Vampire royalty.
Available in corrective and non-corrective versions.  Click on image for more information.
Twilight Custom SFX Contacts
"My family, we're different from others of our kind.  We only drink animal blood. We learn to control our thirst. But you.  It's your scent.  It's like a drug to me. You're like my own personal brand of heroin." ~ Edward Cullen
Look through the eyes of a Cullen, an animal-feeding, vegetarian vampire.  Create a movie-quality effect with Twilight Custom SFX Contacts, and bring your romantic vampire character to life for: cosplay, twilight conventions & film releases.
These intriguing style lenses present themselves with exquisite designs, featuring a golden-brown, sun-bursting pattern emanating out from the pupil and stretching inward from the edge of the iris, and enclosing a yellowish-beige iris, adding depth and a realistic effect to your eyes.
Custom SFX brand lenses are available in corrective and non-corrective versions. Click on image for more information.
Newborn Custom SFX Contacts
"They're incredibly powerful physically, for the first year or so, and if they're allowed to bring strength to bear they can crush an older vampire with ease.  But they are slaves to their thirst, and thus predictable." ~ Jasper Hale
As a newly turned vampire,(also known as new-borns), your thirst for human blood is overwhelmingly and relentlessly painful,  likened to a feeling of having a "fire in the throat", and will feed as much as possible to curb it.
These blood-red, crimson colored vampire eyes reflect your uncontrollable thirst for blood and superior physical abilities, making you the most ferocious and feared vampire's.
Custom SFX Newborn contacts are "custom-made" and undergo a special tinting process to create a semi-transparent effect, thus allowing for some of your natural iris detailing to project through.  This unique effect creates a realistic & professional quality to accentuate your vampire makeup & costumes.
These 'blood-thirsty' custom contacts  are available in corrective and non-corrective versions. Click on image for more information.
Edward Custom SFX Contacts
"That's because you believe only the lies.. the camouflage.  I'm the world's most dangerous predator, Bella.  Every thing about me invites you in.  My voice, my face, even my smell.  As if I would need any of that… as if you could out run me… as if you could fight me off.  I'm designed to kill." ~ Edward Cullen
These extraordinary, honey-gold eyes reflect the diet of the vegetarian vampire, who subsist on animal blood and live in a civilized fashion.
These romantic eyes can easily lure in humans, but be prepared.. as these vampires constantly have to fight the strong urge to want to feed on humans.
These vampire contacts are custom-designed and hand-painted with intricate details; featuring a multitude of colors & tones, and enclosed within a dark limbal ring, thus adding depth & realism to your eyes, and "bringing to life" the portrayal of your favorite twilight characters.
Slip in Custom SFX Edward Contacts to create some romantic feelings, or get ready to fight off a rival clan of new-born vampires.  Attend your next cosplay event in true twilight fashion or pay homage to Edward Cullen at the next twilight convention or movie release.
Available in both corrective and non-corrective versions. Click on image for more information.
SOURCES CITED:
Twilight Vampires – http://twilightsaga.wikia.com/wiki/Vampire
Twilight Volturi  – http://twilightsaga.wikia.com/wiki/Volturi
Twilight Saga – http://twilightsaga.wikia.com/wiki/Twilight_Saga
Twilight Characters – https://en.wikipedia.org/wiki/List_of_Twilight_characters
Twilight Film Series – https://en.wikipedia.org/wiki/The_Twilight_Saga_(film_series)
Filed under: Cosplay Contact Lenses • Vampire Contact Lenses
Like this post? Subscribe to my RSS feed and get loads more!