Werewolf Contacts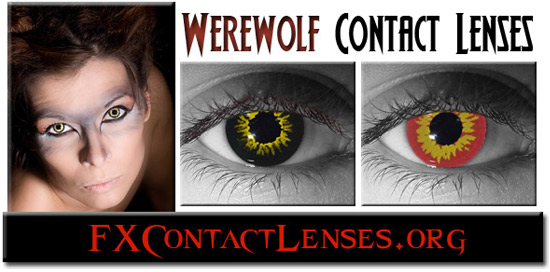 We all at one time or another got down on all floors, and acted out in werewolf behaviour.  And didn't it feel good?.. If only for a moment.  C'mon.. you got to at least remember doing this as a child.  And didn't it just feel right?
The wolf-like animalistic nature lies within us ALL!  And it is only healthy to release the animal.  After all, in this "day & age",  don't we want to `transform' and `act out' into something a little stronger… and a little more vicious.. if only for a day?
So transform into your inner wolf — and slip in some werewolf contacts… paint your face… get down on all floors… lift your head up… and HOWL!  And LET GO OF ALL YOUR INHIBITIONS!
Below are two of our more popular werewolf FX contact lenses.  You can click here to see a wider range of werewolf contacts in our store.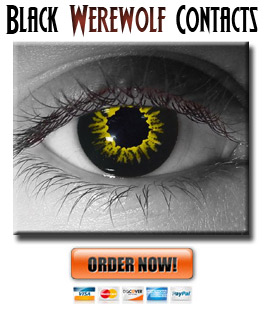 Black Werewolf Contacts
Beautiful and charming dark & golden wolf eyes to hypnotize & subdue your prey!
If you like the idea of extreme transformations and werewolf movies, then you will have a good time wearing these for Halloween, costume parties, Goth clubs, or anytime you feel like tapping into your inner wolf.
Black werewolf contacts are also fun to wear while role-playing with your partner.  So slip these in, and release all your inhibitions!
These sexy black werewolf lenses will transform you into the wild animal that needs to be released.
Select from Non-corrective(0.0) or Corrective(-6.0 to -0.25) powers.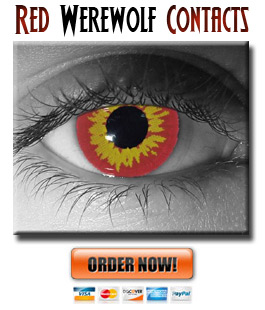 Red Werewolf Contacts
The red-eyed werewolf is more vicious looking and a lot hungrier than the black-eyed wolf.  So prepared to feed upon slipping these in.
Pair these with your favorite werewolf costume, or to scare the heck out of your friends & family.
These red werewolf contacts feature a dark red iris with golden iris strands.
Select from Prescription or Non-Prescription powers.  Prescription powers range from 0.0 to -6.0. Be sure to select select 0.0 power for non-prescription orders.  Click on image to learn more.