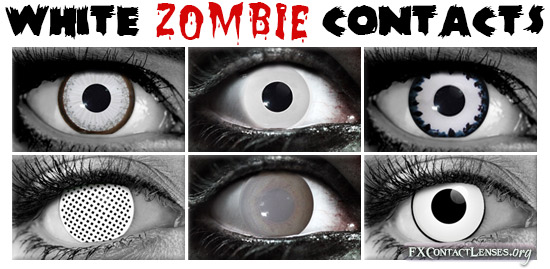 A zombie is no zombie without a 'soul-less' & 'lifeless' st-are to resonate with it's departed body.  So why not get serious, and play the part of a real zombie — and highlight it's most prominent body part to emphasize & accentuate what you truly are?… dead!  And what you truly want?.. to eat people!
There are also White-Eyed Demons that share this same horrific stare.  And white-eyed demons are known to be very powerful, 'maleficent forces' such as: Lilith, Alastair & Samhain.
Don't leave anyone guessing what you are… or what you want.  Choose below from a few different styles in the industries spookiest white zombie contact lenses — fitting for any type of zombie look, or feel.
'All-white' & 'frosty' contact lenses are the most popular in the industry. So, in addition to zombies; these styles also pair well with the following makeup effects & costume ideas: Demon, Ghost, Clown, Skull, Doll, Witch, Monster, Macabre, Creepy, and other special effects makeup ideas.
White Zombie Contacts
Zombies are soulless, lifeless, & empty vessels.  In constant search to feed on life.  To fill the empty void within.
These all-white lifeless & colorless zombie contact lenses mirrors all that lies within zombies. Nothing! Except a black hole(pupil) looking to tear $%!# up.
These All-White zombie contacts are the most popular & economical brands to choose from.
In addition to spicing up your zombie costume/makeup — these make a great fit for: ghosts, demon, ghoul & creepy killer type costumes.
Available in: Non-Corrective(0.0) and Corrective Powers(-6.0 to -0.25).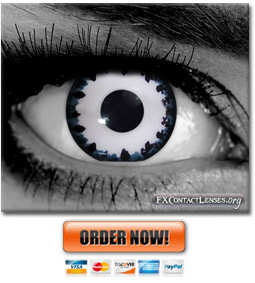 Zombified Custom SFX Lens
Take your hunger to the next level and be prepared to smell brains with ease!
Zombify yourself from a hungry flesh-eating zombie to a ravenous brain-eating zombie.
The zombified contact lenses feature a more piercing look with black limbal ring.  And more of a light-bluish tone within the retina.
Available in Non-Corrective(0.0) -or- Corrective powers(-0.25 to -6.00).
Click on image to learn more about the zombified contact lenses.
Frosty Zombie Contacts
This zombie has been dead for a while… but he's real hungry!  And although he may not see well… he doesn't have to, because he can sure smell your brains.
This style contacts is the ultimate in realism when it comes to the death/zombie look, and seen in many zombie films.
Also known as White Out Contact Lenses – these style contacts also bear a close resemblance to the creatures from popular horror films such as: Pet Sematary, and Evil Dead.
Makes a great pairing with zombie, demon, macabre, and ghost costumes.
The Frosty zombie contacts are: available in Non-Corrective versions(0.00 Power).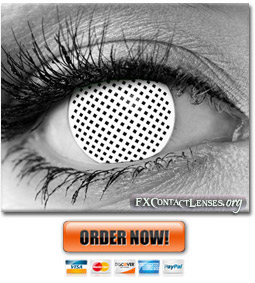 White Lace Zombie Contacts
Let your decrepit, rotting soul mirror through these soul decaying eyes.
Similar to Frosty Eye lenses, White lace contacts will give you a blind-eye, or decaying eye effect, making them the perfect look for zombies, ghosts, macabre victims or rotting creatures.
These creepy lenses are sure to accentuate your make-up or costume effects for: Cosplay, Halloween, Haunts, body paints, film production, or wild fun!
Available in Non-Corrective versions(0.00 Power).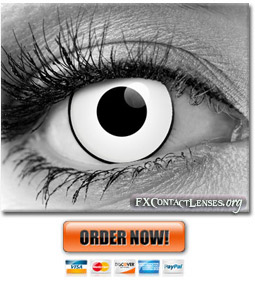 Piercing-Eye Zombie Contacts
Amp up the scariness factor to your zombie special effects make-up & costume creatures.
Featuring an opaque all-white lens with black limbal ring to give your eyes a scary, piercing effect that's sure to shivers down the spines of mere mortals.
These Zombie FX contacts give your an inhuman-like appeal that resonates with a variety of characters & creatures.
Rock Star Marilyn Manson popularized this lens effect during his career.
Available in: Non-Corrective(0.0) and Corrective Powers(-6.0 to -0.25)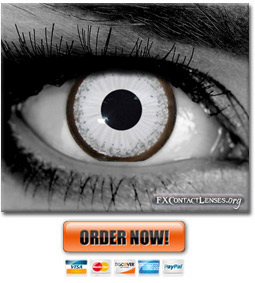 Necri Custom SFX Lenses
These zombie eyes are vicious, hungry, and will tear flesh off your neck and bite holes into your skull.
These unearthly, zombie styled eyes are truly spine-chilling, vibing with all things undead.
Necri Custom SFX contact lenses are custom designed and hand-painted with intricate details for the ultimate appeal & movie-quality effect.
Featuring icy-white, smoky irises with gray detailing throughout lens to add an eerie depth to your appearance.  Accentuated by a dark, contrasting limbal-ring for an intense stare & otherworldly appeal.
Stand out from other half-assed zombies on Halloween, or at your next costume party, cosplay event, horror flick, stage act, photo-shoot, or metal concert.
Available in Non-Corrective(0.0) -or- Corrective powers(-0.25 to -6.00).
And check out our walking dead contact lenses for a more professional zombie look, with an intricate & customized design; featuring a sclera contacts to cover the full eye, with blood-shot vessels.
Filed under: Zombie Contact Lenses
Like this post? Subscribe to my RSS feed and get loads more!