Cat Eye Contacts

Cat Eye Contacts
In the past, the only decorative contact lenses were colored versions made up of natural eye colors – blue, green, brown, etc.  However, all types of customized contact lenses have come on the scene, allowing people to take their SFX makeup, costumes & role-playing desires to the next level.
Cat eye contacts seem to be a very popular choice for costume parties, Halloween, Goth scene, SFX makeup artists.  Also commonly worn in the theatrical arts, and actors.
Wearing cat eye contacts will add an element of Mystery and sexual appeal to many types of cat & feline costumes. So whether your looking to add a little spice to your life, wear for Halloween, have fun with your friends, or play a character role in a movie… then look no further.
Not only do we offer some of the highest quality designed cat eye contacts, but we also have some of the widest varieties around.
Cat contacts are available in corrective and non-corrective versions.  Browse below to find which colors & style resonate with your feline nature the most… Meow!
Blue Cat Eye Contacts
Be careful!  As animals of all sorts will be falling under your feline spell with one hypnotizing stare from these baby blues.
Slip in a pair of GOTHIKA Blue Cat Contact Lenses and create a mischievous & alluring look anywhere you go.
Portray and pay homage to Cheshire Cat from Tim Burton's Alice in Wonderland at the next cosplay event.
Create some really cool, sexy, charming, & unique looks for Halloween or the night-clubs.
Available in non-corrective versions only.  Click on image to learn more.
Red Cat Eye Contacts
This feline is raging and will stop at nothing until it scratches or bites!
A look that offers a chilling but captivating appeal; these red cat eye contacts feature a blood-red iris, and are ideal for costumes that personify rage — such as cat, demon, vampire or devil.
Available in both corrective & non-corrective.  Corrective versions range from -0.25 to -6.00.  Select 0.00 for all non-corrective(0.0) lens orders.
Click here to learn more about these raging red cat-eye contact lenses.
Yellow Cat Eye Contacts
Haven't you heard the saying — Don't mess with people with yellow eyes!
There is something really compelling & spine-tingling when you see yellow eyes.
Maybe because it is of the most unnatural color in the eye-color spectrum; for humans that is, but not for cats.  Think of a Black panther or a black cat.
Wear these yellow cat eye contacts with an all black costume or Goth outfit for the full effect.
Yellow cat contacts are available in non-corrective(0.0) versions only.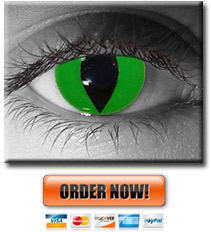 Green Cat Eye Contacts
The most gorgeous & under appreciated eye color!
This is second behind yellow when it comes to predominant eye colors in the animal cat kingdom.
Green cat eye contacts are probably the most beautiful of all the colors, especially when a deep green.
in addition to cat costumes, these green cat contact lenses can also be worn with reptile or alien type costumes.
Available in Non-Corrective(0.0) lenses only.
Banshee Cat Eye Contacts
Experience the eyes of impending death & wailing warnings!
In Irish mythology, The Banshee is a female spirit  usually seen as an omen of death and a messenger from the underworld.
Legend says, a banshee will appear, and begin to wail & scream if someone is about to die in a household.  Some tales recount that Banshee's, though called a fairy, was a ghost, often of a specific murdered woman, or of a mother who died during childbirth.
Banshees are frequently described as having long pale hair which they brushed with a silver comb.
Available in corrective(-6.00 to -0.25) & Non-corrective(0.0) versions.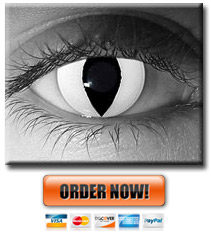 White Cat Eye Contacts
Add an eerie, creepy & scary feeling to your cat persona!
White eyes are considered some of the spookiest type eyes in the horror genre.
These white cat eye contacts will tingle the spines of all your victims & prey.
In addition to your feline look, these can also be worn along with the following type creature costumes:  Demonic possession, evil ghosts & wicked witches.
White cat contacts come in both Corrective  & Non-Corrective(0.0) versions.
Choose from the wide array of feline cat contact lenses, ranging in many different colors, styles, and corrective powers.  Make your pick, slip them in to become in that sexy cat-like creature that you know you are.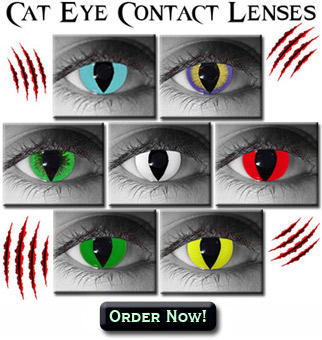 Combine Makeup With The Cat Lenses
There are many different designs & colors you can beautify, sexify, and prettify your face with to get that exact cat-look that your after.
In fact, in addition to cat contact lenses, their are some simple, yet sexy cat eye makeup designs professional makeup artists have used on their runway models.  And you too, can easily  learn how to apply cat eye makeup that will be most befitting to you cat look.   Get that professional Runway Look of Cat Eyes with this video tutorial by Julianne Kaye, Maybelline Makeup Artist.
Also visit our cat-eye pinterest board for some really cool cat-eye costume and make-up effects you can create for Halloween, cosplay, anime, movies, theatre, photo-shoots, or anywhere your little feline heart desires.
Summary
Whether you're looking to dress up for a night on the town…. looking to win best costume next Halloween… or looking for a fiery evening with that 'special someone' — you can't go wrong with the cat eye look.
Combine any of the above makeup tutorials along with the cat contacts, and dress up as a sweet innocent kitten look… or a vicious wild cat look, or sexy Michelle Pfeiffer look in Batman Returns.
Between the cat makeup and the cat lenses, the potential look is endless to where your imagination can take you — evil, sexy, cutesy, or beautiful….  Meow!  Have fun in your designs!